Hello, my name is Michael Morrone. My parents acquired their first Ridgeback in 1984 when I was only 5 years old. He was from Kwetu Kennels, founded by Barbara Sawyer-Brown. I have been in love with the breed ever since. In 1997 we went back to Barbara for a second puppy. This time we chose to get a female, with the hope of breeding with Barbara's help. She was delighted we wanted to work with her. We named her Casey, and I eventually kept Casey's first grand daughter, Little Ann. Her first litters are featured on this site. I also kept one of Little Ann's puppies, Dixie, who is also a Champion. Little Ann has retired, and Dixie has now had two litters. All in all, my mother and I have had 13 wonderful litters. Many puppies have become champions, but all have gone to wonderful, loving homes.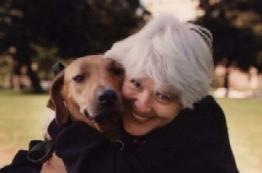 I have been breeding with the help of Barbara Sawyer-Brown since 2007. She started the Kwetu kennel name in 1966, and is a world reknown breeder. Barbara considers my mother and I to be subsidiaries of her kennel, and we are very grateful. It is our every intention to continue breeding at the same level, and with the same values, that Barbara has used to establish Kwetu as one of the foremost kennels for conformation standard and temperament. For more information on
Kwetu, please visit www.kwetureg.com


The Rhodesian Ridgeback was first recognized by the AKC in 1955. Imported from Southern Africa, the Ridgeback was bred by European settlers who needed a dog that could hunt large and small game, as well as protect the farm and home. Using Danes, Mastiffs, Greyhounds, Salukis, Bloodhounds and other breeds, and mixing with a ridged dog domesticated by the Hottentot Tribe, today's Ridgeback was created. The Ridgeback has a quiet, gentle temperament. Developed not only to hunt, but also as a family protector, his affectionate disposition makes him a trustworthy companion.